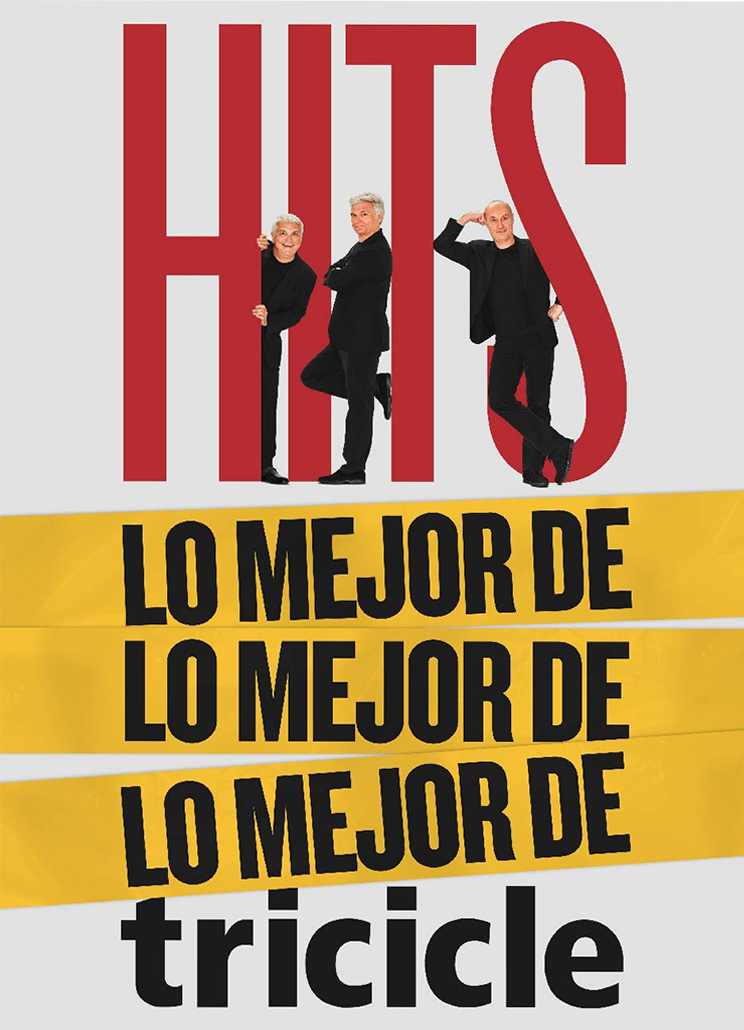 HITS: IT LOOKS AS THOUGH IT REALLY MIGHT BE TRICICLE'S LAST TOUR
HITS. WHAT IS IT?
HITS –the name says it all– features the best of the best of Tricicle, or just about, as we've had to discard the odd sketch which some people will obviously miss. It is our longest show ever, with 100 minutes full of gags, many of which will be conspicuous by their presence and others by their absence.
HITS –an acronym for Humor Inteligente Trepidante y Sorprendente (Intelligent, Fast-moving and Surprising Humour)– it is made up of 12 slightly shortened sketches and a wide-ranging end-of-show summary featuring short gags which may induce respiratory failure in many a spectator. Nearly all the sketches appear in their original form, as when premiered, as the passing of time –with the exception of some technical aspects which we have either avoided or varied– has not dated them in the least.
We are looking forward to seeing you here. It takes a good dose of your humor in this rarefied environment. Come as soon as possible!
Fernando Merino, El Mundo
«Indeed this is the best definition of a work without words for decades that has forged a unique and perfectly identifiable style.» 
David Céspedes, El diari de girona.
«A very long applause put an end to the show that can directly be baptized as the best of the best of the best of Tricicle.»
Laughter from minute 1! It passed me super fast, we enjoyed it in a big way!